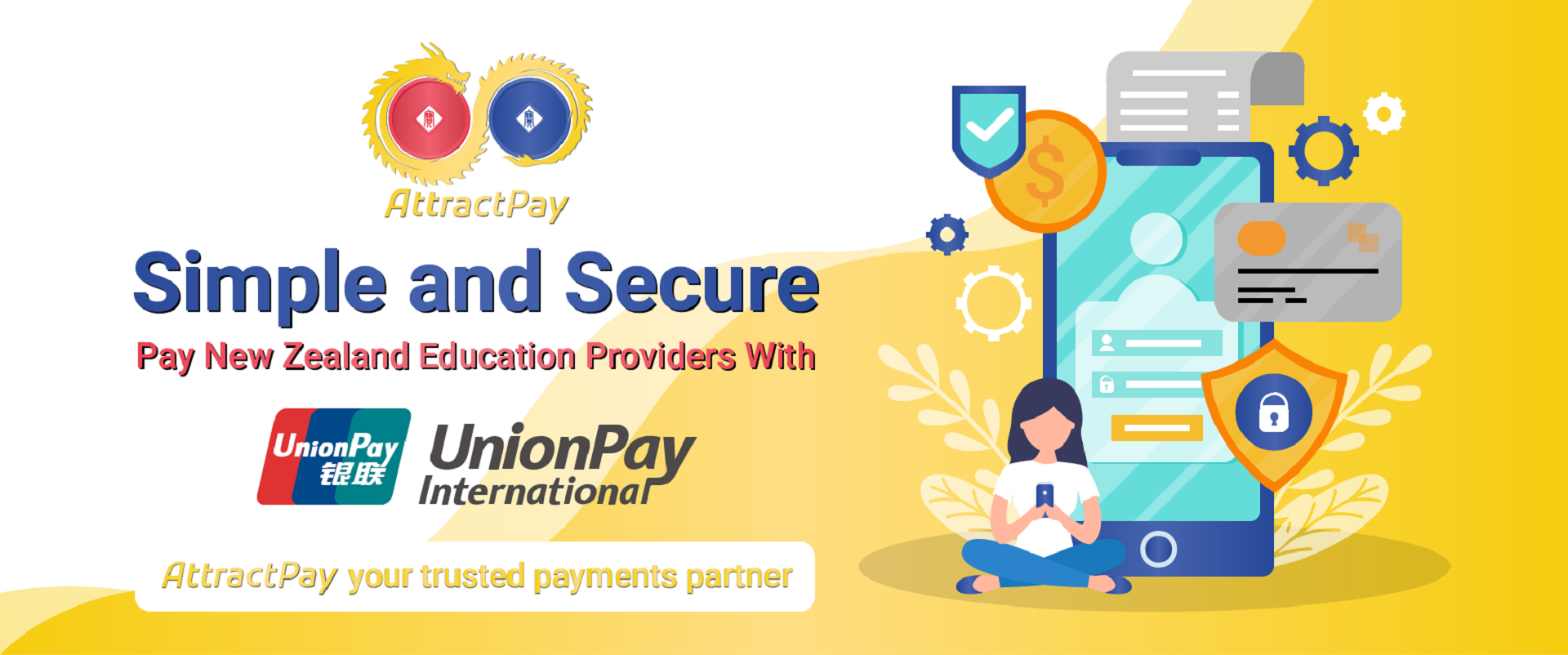 Making it easy to pay education intuitions with Popular Chinese Payments systems
Many education intuitions in New Zealand rely on Chinese students for income since overseas students pay two to three times more in tuition. According to a UnionPay report, Chinese students pay more than 340 billion Yuan (US $60.4 billion) every year, with more than 80% going to tuition fees.
However, Chinese families have difficulties with the payment process – often Banks and money transfer companies charge costly transaction fees or charge higher exchange rates. complex paperwork for international payments all this means paying tuition is stressful and expensive.
Different education intuitions adopt different payment methods. Many may only accept payment into their bank accounts or offer payment via Visa and Mastercard. The problem with paying with a Visa/Mastercard from China is that the exchange rate charged is high, plus the cardholder may pay an international transaction charge; on top of that, the education intuition will pay a merchant service fee for that transaction which could be between 2% and 4%.
Families and students are worried about the security of their payments. When making a transfer, they need to determine foreign currency transfer requirements and whether the transfer has been successful. They also prefer paying with UnionPay /Alipay /WeChat as those systems give them a level of confidence that their payment is to an authorised entity that has been sanctioned by UnionPay /Alipay /WeChat.
China leads the world in digital payments and the population is accustomed to paying via eWallet and multiple surveys have shown that international students want to be able to pay their tuition online via UnionPay cards or mobile eWallets that are popular in China.
Education intuitions want to accept payments via Popular Chinese Payments systems. However, to start accepting Chinese payments, education institutions need to set themselves up as a "Merchant of UnionPay or Alipay or WeChat". This can be a lengthy process that requires them to submit compliance documents, appropriate approvals and may require updating their IT systems to accept payments online. Sometimes the compliance process makes it hard for them to sign up and sometimes once they signup to accept Chinese payments there may be limits placed on the amount of funds they can receive.
The good news is that there is a much easier way.
AttractPay, which has been providing payments in New Zealand since 2015 are an approved and licensed UnionPay, Alipay, WeChat partner and payment processor; have a solution offering to help education intuitions accept payments from China.
The main advantage of paying via AttractPay "FeesMate", is that it is a payment solution that organisations don't need to go through the lengthy process of setting themselves up as a merchant – AttractPay takes care of all of that.
This means that New Zealand businesses and education institutions can get paid by Chinese customers via UnionPay, Alipay, WeChat through their New Zealand authorised partner AttractPay. By using this service offering New Zealand businesses and education institutions do not need to install any new payment system or set up a new type of bank account – it works just works for them.
How does AttractPay's Bill / Invoice payment service work?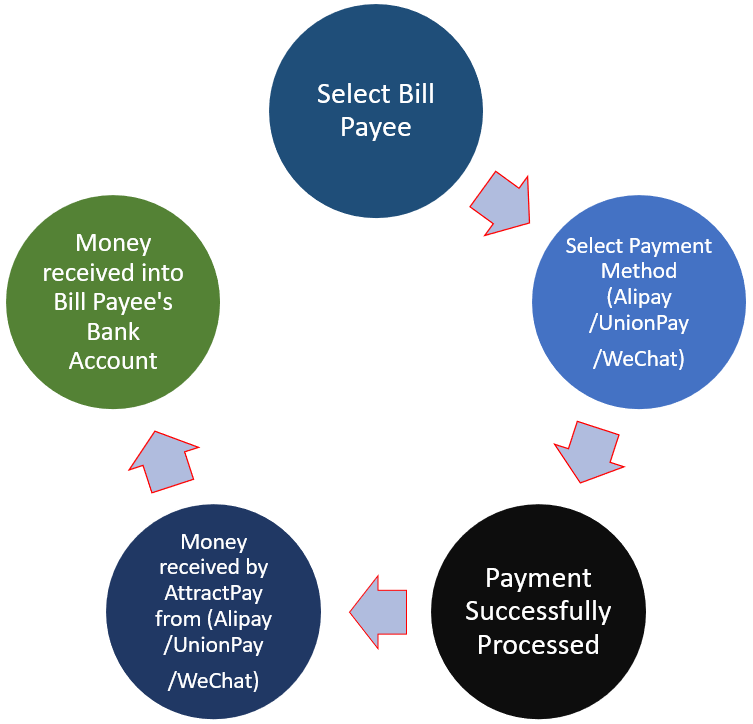 User selects the New Zealand registered business from the list found on the Bill/Invoice payment page.
User selects their UnionPay payment method and request AttractPay to process the payments.
AttractPay process the payment and if UnionPay approves the payment. The user is notified that payment was successful and that the bill payees account will have the funds paid as soon as UnionPay releases the money to be paid into the bill payee's account.
Funds are credited into bill payee nominated bank account with the reference and particulars provided at the time of making the payment.
Why use AttractPay's Bill / Invoice payments service to pay a registered business in New Zealand?
This secure and easy online service allows users around the world to pay in New Zealand dollars into a New Zealand registered business's bank account 24x7, using their local currency.
AttractPay charges a fee per transaction to cover carry costs and operations. The service fee is dependent on the payment choice selected.
UnionPay debit card or prepaid card 0.7%
UnionPay credit card 2.0%
However, we may charge a higher fee or a lower fee, or no fee, for particular billers. We will notify you by displaying a message or notifying you of the amount or rate before you make the payment.
Paying a bill/invoice on someone behalf?
Often parents or family living overseas may choose to pay a bill or invoice on behalf of a family member living in NZ. AttractPay's bill /invoice payments service allows you to pay a bill /invoice that is made out in someone's name.
NOTE: payment can only be made into a registered New Zealand business bank account and in some instances will the person making the payment will have to show proof of the bill /invoice being paid.
Why does UnionPay take money from my account immediately, but money takes a few days to appear in the bill /invoice payee Bank account?
The UnionPay user has used to pay does not transfer funds from the user to AttractPay as soon as the transaction is complete. All UnionPay does is says they have received funds from the payer and will transfer funds to AttractPay to transfer to the NZ registered businesses bank account. UnionPay may take 1 or 3 business days to transfer funds from them to the New Zealand registered businesses bank account via AttractPay.
For example, if you choose to pay with Alipay.
UnionPay will take funds from your nominated account and inform AttractPay that funds have been received by them. When we receive a success payment message from UnionPay we let the user know funds have been successfully received by UnionPay and payment to the NZ registered businesses bank account will take place. (Day 1)
UnionPay then sends the funds from China to New Zealand on the next business day. (Day 2)
Next business day a direct credit to the New Zealand registered businesses bank will be actioned. (Day 3)
If you have any questions or queries, please contact our support team on info@attractpay.co.nz
What is the largest amount you can pay?
At the current moment there no bill / invoice limit. However, depending on the user's UnionPay card there may be a maximum transaction limit or maximum daily transaction amount that can be paid.
It is important to note that for now, cross-border payments made via UnionPay are not subject to the $50,000 USD exchange quota.
What should a user do if they have any issues making the payment or made a mistake while making the payment?
Please contact us immediately via info@attractpay.co.nz so that we can assist you in resolving the issue or mistake.